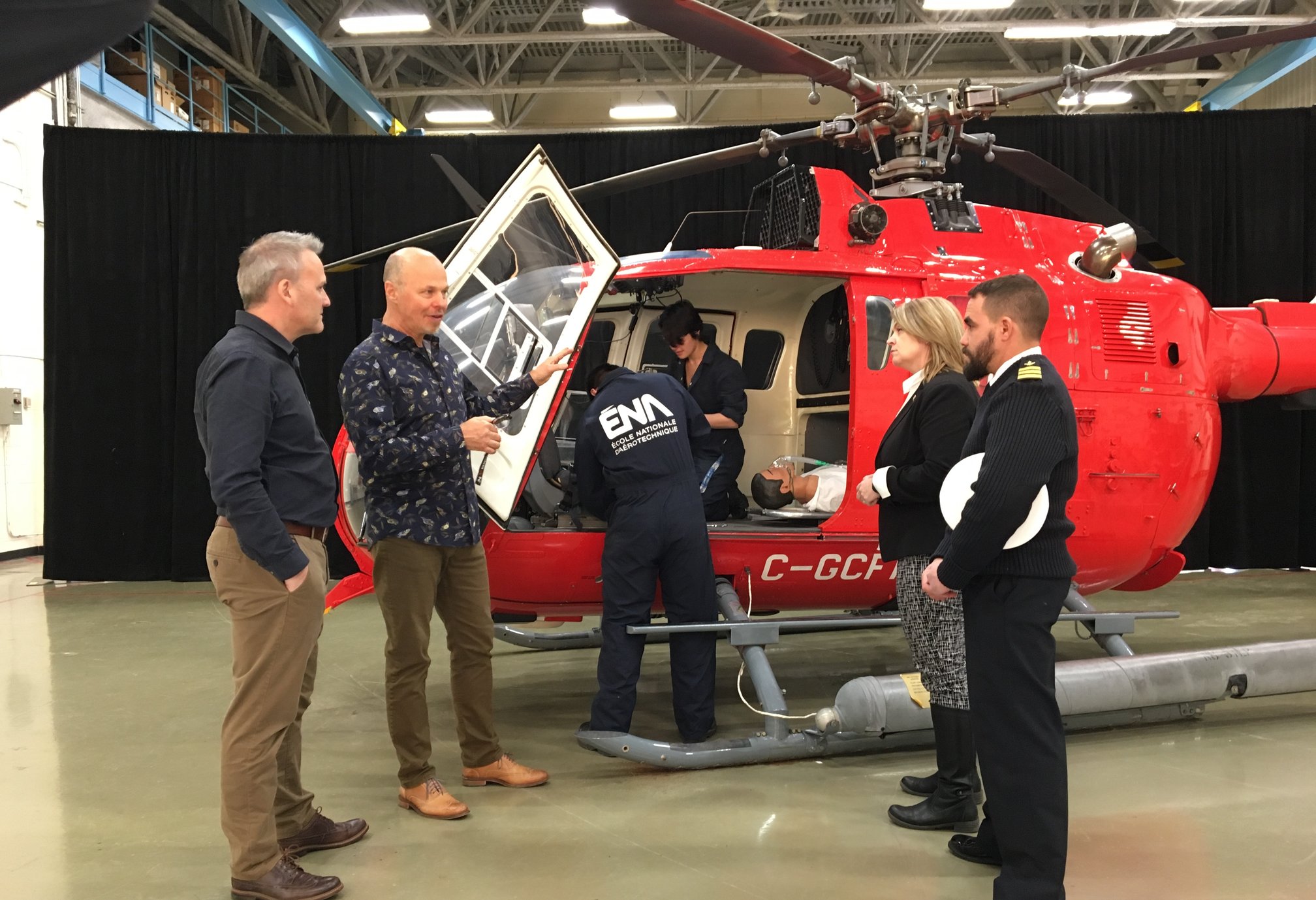 The Member of Parliament Sherry Romanado with Sylvain Lambert, Director General of cégep Edouard-Montpetit and École nationale d'aérotechnique; Louis Guimont, professor at the Département de préenvol of the École nationale d'aérotechnique; and Sami Aouameur, Deputy Superintendent of the Canadian Coast Guard. Photo credit: cégep Édouard-Montpetit
November 14, 2018 – Saint-Huber (Qc) – The Government of Canada is supporting the development of well-trained, skilled personnel to serve the aerospace industry of the future by donating surplus Coast Guard assets to educational institutions across Canada. These donations are helping to support aircraft maintenance training in Canada, providing practical and hands-on experience to students.
On behalf of the Honourable Jonathan Wilkinson Minister of Fisheries, Oceans and the Canadian Coast Guard, Sherry Romanado, Parliamentary Secretary to the Minister of Seniors and Member of Parliament for Longueuil–Charles-LeMoyne, announced today that the École nationale d'aérotechnique, affiliated with Cégep Édouard-Montpetit, along with nine other educational training institutions located across Canada have received a Coast Guard Messerschmitt-Bölkow-Blohm BO105 helicopter.
The ten Coast Guard BO105 helicopters were in service in the Canadian Coast Guard for more than 30 years. The first BO 105 helicopter was purchased by Coast Guard in April 1985, and the last unit was purchased in April of 1988. The helicopter fleet plays an essential part in supporting programs such as icebreaking, marine communication, aids to navigation, environmental response, waterway protection, conservation and protection, science and support to other government departments as required.
As part of the Coast Guard's Fleet Renewal Plan, the Government of Canada has purchased and deployed 22 new helicopters – 15 light-lift helicopters (Bell Epi 429) and seven medium-lift helicopters (Bell Epi 412).
Au total, dix établissements d'enseignement ou de formation approuvés par Transports Canada et offrant des programmes pour techniciens d'entretien d'aéronefs, partout au Canada, ont reçu comme don un hélicoptère BO-105.
La Garde côtière canadienne a terminé la construction et la livraison de 15 hélicoptères de transport léger Bell 429 et de 7 hélicoptères de transport moyen Bell 412EPI dans le cadre de son Plan de renouvellement de la flotte toujours en cours. Les 22 nouveaux hélicoptères ont été déployés aux bases de la Garde côtière partout au pays.
La Garde côtière canadienne construit actuellement un simulateur de vol complet qui doit offrir une plateforme pour la formation sur la nouvelle flotte.
Les établissements bénéficiaires utiliseront les hélicoptères BO-105 pour la formation pratique sur les programmes de mécanique et d'ingénierie.